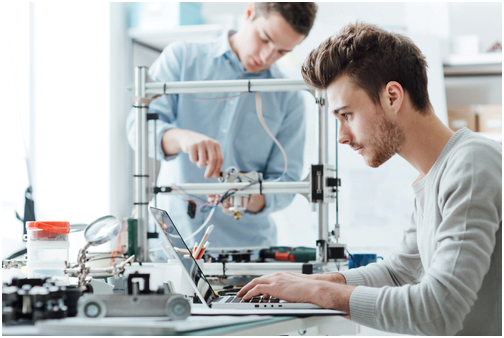 How 3-D Printing is Revolutionizing Manufacturing
3-D printing is driving a manufacturing revolution. Global shipments of 3-D printers in 2016 are on track to double shipments in 2015, rising from 219,168 to 455,772 — an increase of 108 percent — research firm Gartner projects. By 2020, this number will reach 6.7 million. One of the biggest uses of 3-D printing within the enterprise is supporting manufacturing, contributing to a 44 percent increase in enterprise 3-D printer sales this year. Enterprises are using 3-D printing for prototyping, augmenting manufacturing and producing components, among other applications, according to Gartner's report. Here's a closer look at how 3-D printing is revolutionizing the way manufacturers operate, sell products and serve clients.
Prototyping
As Gartner's report notes, the most popular 3-D printing application for enterprises is prototyping. Prototyping can require a significant investment in equipment and expertise as well as time. For some companies, particularly for smaller companies and startups, this can create a barrier that delays or prevents bringing a product to market in time to exploit opportunities.
3-D printing removes this obstacle by speeding up the prototyping process while simultaneously lowering costs. For instance, seal manufacturer Apple Rubber uses 3-D printing to efficiently and affordably produce customized o-rings in more than 7,000 sizes, which companies can use for testing product prototypes. This easy access to cost-efficient prototyping both aids start-ups and helps companies of all sizes cut prototyping time and costs.
Streamlining Production and Operations
By 2020, 75 percent of enterprises will be using 3-D printing to augment their manufacturing processes. 3-D printing can help manufacturers get prototypes into production more rapidly because the quicker production they provide gives engineers more time to refine design, reducing launch delays, says organizational management expert Anthony Ortega. It also makes it easier to catch design flaws early so they don't set back production when they're discovered later. This translates into a competitive advantage by allowing companies to roll out new products more quickly than marketplace rivals.
3-D printing further enables companies to minimize the cost of manufacturing and overhead, adds business strategy expert Richard D'Aveni. Using 3-D printing production allows systems analysts to trim steps out of the production process, thereby cutting expenses. 3-D printing also reduces inventory costs by letting companies produce quantities to match demand levels. 3-D printing further cuts shipping costs by letting companies shift manufacturing to locations nearer the end user. USPS is building a network of 3-D printing locations so that companies can delegate fulfillment to stores and drivers located near customers.
Producing Components
Garnter also projects that 65 percent of discrete manufacturers will be using 3-D printing to produce component parts by 2020. For example, researchers at the University of California Berkeley and Taiwan's National Chiao Tung University discovered a process for 3-D printing electronic components last year. Companies such as Optomec have already commercialized 3-D printing of conductive, dielectric, semiconductor and biologic parts.
Delivering Customer Service
One advantage of the ability to print component parts is that it makes it easier to provide customers with replacement parts. Parts can be printed on demand as customers need them. This reduces the need for inventory and shipping while boosting customer satisfaction.
Another way 3-D printing improves customer service is allowing companies greater flexibility in offering customization. Since 3-D printing uses a digital template rather than a physical mold, it is easier to offer mass customization options and give customers input into the design of products they buy. For example, London firm Digital Forming lets customers order customized 3-D-printed products ranging from mobile phone cases to jewelry.
Selling Products
Being able to offer mass customized products makes the sales process easier. In combination with sales analytics tools, 3-D printing can be used to offer parts tailored to individual customer interests, making the job of sales representatives easier.
Another way 3-D printing helps sales representatives is making it possible to print demonstration models for sales presentations. This makes it easier to demonstrate product benefits in action and show how products answer customer sales objections. Sales representatives selling 3-D-printed products also have the advantage of being able to push orders through immediately without having to wait for optimal production windows, points out Zilliant pricing general manager Barrett Thompson.